Welded steel wire fabric, automatic wire welder, chain-link fencing machine, wire nettings of metal Manufacturer in Taiwan Asia
Manufacturer for Mesh Making Machinery Contact HOME
( 1) Wire Mesh, welded Wire Mesh, chain link fence, stainless steel Wire Mesh, welded Mesh, Mesh Wire, Wire Mesh Partition, Wire Mesh fencing, Mesh stainless Wire, Wire Mesh fence, fence, fencing, steel Mesh Wire, Wire Meshes belt. ( 2) security barriers, road block, barrier, police security road block barrier, traffic barrier, safety barrier, barrier gate, barrier entrance, police barrier, fence barrier, road barrier, entrance barrier, fence razor Wire, razor Wire security barrier, concertina Wire, concertina razor Wire, concertina barb Wire, barb Wire concertina, security. ( 3) chain link fencing machine, barbed Wire machine, hexagonal Wire netting machine, Wire Mesh welding machine, Mesh- making machinery, hexagonal gabion machine, gabion equipment, machine, machinery, automation equipment, automation system, machine automation, automated production system, construction equipment.. (4) conveyor, belting, metal conveyor, conveyor belt, Wire belt, conveyance, conveyor belt system.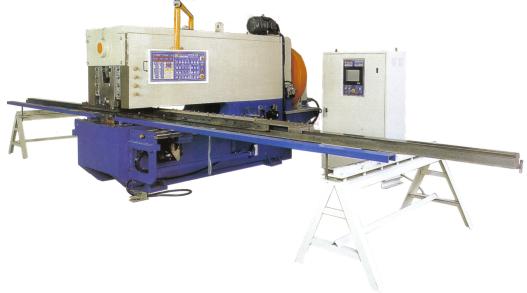 Perforated Metal Machine/Automatic Net Making Machine/Dual-Bearing NC/CNC Automatic Feeding High Speed Screen Pressing Machine/Sheet Metal Punching Press Machine/Expanded Metal Making Machine/Expanded Metal/Checkered Plate Machinery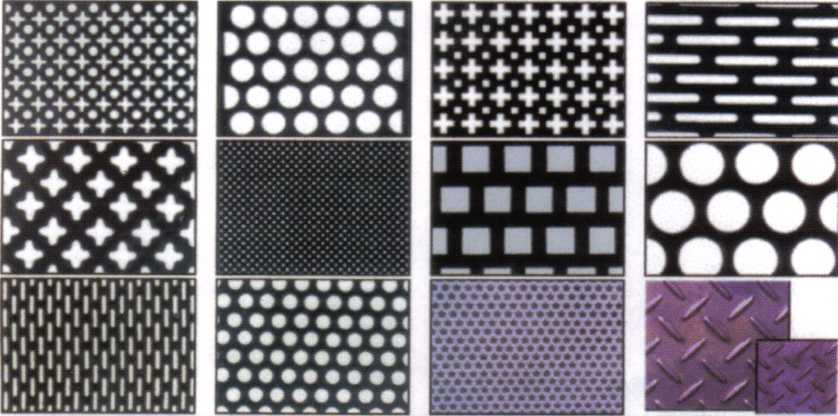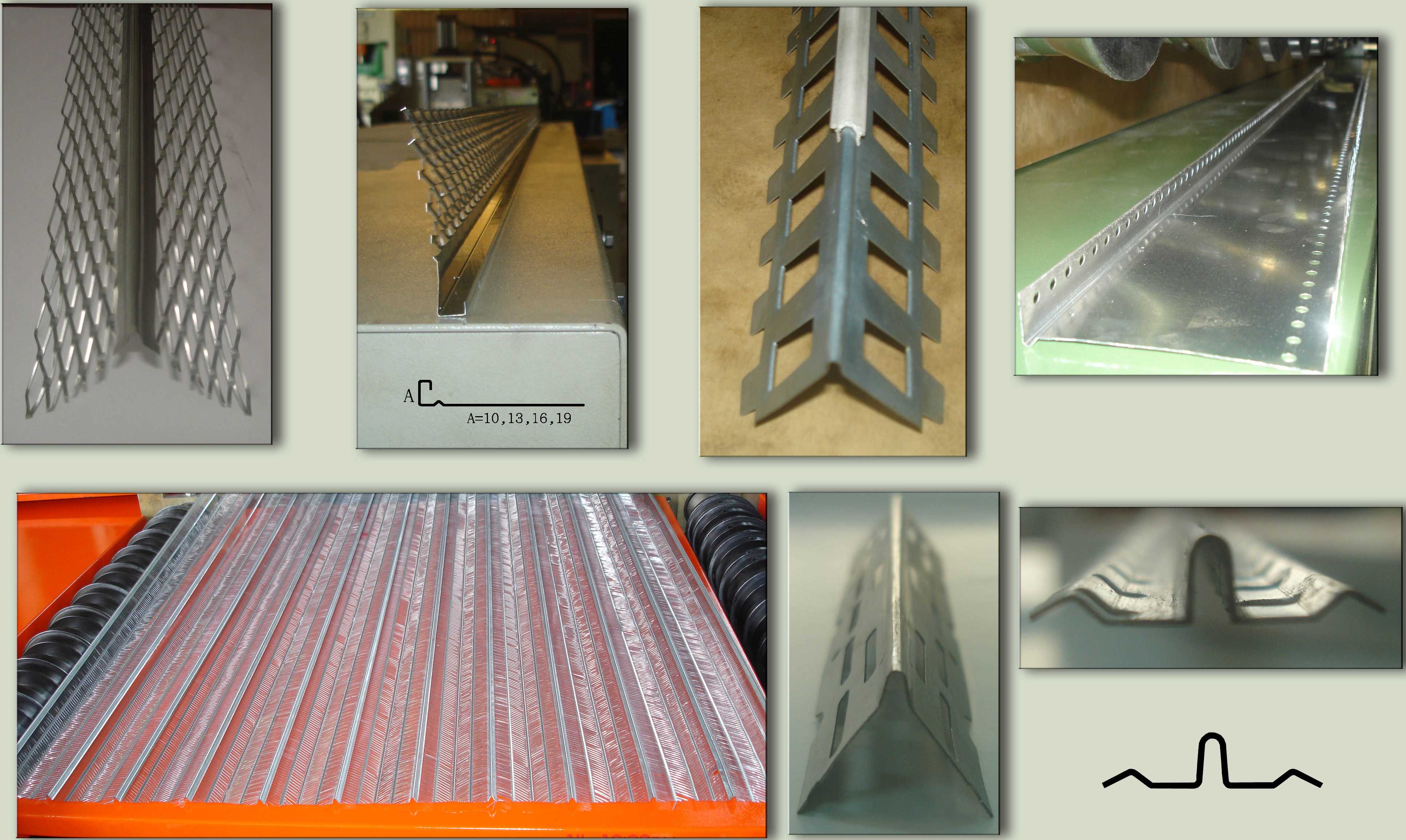 Metal Mesh Forming Making Machine
---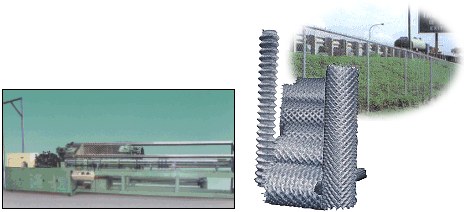 Auto Chain Link Fencing Machine菱形網機
MODEL NO: CF-CLF-3100S
FENCE MESH PITCH: 1-4"
WIRE RANGE: 8# - 14#
FENCE HEIGHT: 4M
MAIN MOTOR: 7.5HP
PRODUCING CAPACITY: 10# x 2", 800m2/8HORS
CUTTING SET: 3HP
TWISTING SET: 2HP
WATER PUMPER: 1/8HP
EMERGENCY STOPPING SYSTEM
STANDARD EQUIPMENT –
TWO SETS OF DIES (SPEC. AS REQUIRED)
TWO SETS OF WEAVING PIPES
FLOOR SPACE: 8.1M x 4.5M
M/C WEIGHT: 3950 KGS/4200KGS
OPERATING VOLTAGE: AS REQUIRED
---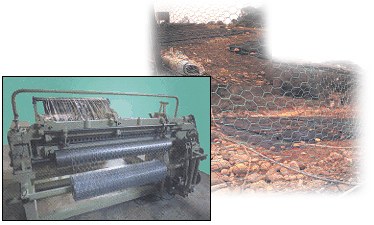 Hexagonal Wire Netting Machine (Reverse Twist)六腳網機
MODEL NO: CF HEX100M
WIRE DIA: 0.7-1.0mm
MESH: 1" (25.4mm)
WIDTH: 1M
LENGTH: 100"/ROLL
PRODUCTION CAPACITY: APPROX.600 METERS/8HRS
MOTOR: 2HP
INCLUDING ONE BOBBIN STAND
ONE SET OF BOBBIN
ONE BOBBIN WINDING UNIT
★★MACHINE SIZE★★
MAIN MACHINE: 2.65M(W)X1.85M(L)X1.45M(H)
BOBBIN STAND-1.45M(W)X0.82M(L)X1.27M(H)
BOBBIN WINDING UNIT-1.38M(W)X1.3M(L)X1.3M(H)
---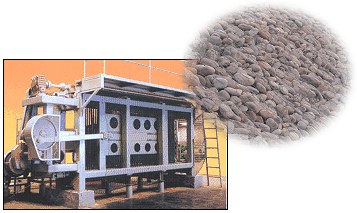 Hexagonal Wire Netting Producing Line (Gabion Weaving Machine & Equipments)石籠網機製造設備
WEAVING MAIN MACHINE (MODEL NO: CF-GABION)
WIRE DIA. 2.0mm ~ 4.0mm
MESH SIZE: 80mm X 100mm (AVAILABLE)
WIRE TYPE: GALVANIZED STEEL WIRE OR PVC
COATED WIRE
WORKING WIDTH: 2M, 3M, 4M (AVAILABLE)
SPEED: 40 STROKES/MIN
POWER: 7.5HP X 6P
COUNTER: 0-9999
AUTO-STOPPING DEVICE (broken wire or run out of material)
WT. 7800KGS
SIZE: 5150L X 960W X 3250H
WORKING PLATFORM
WITH FEEDING STRENGTHENER
Weight.: 700KGS
SIZE: 4320L X 2450W X 1740H
WIRE SPIRAL COILING UNIT
SPEED: 44M/Min (254 SPIRALS)
POWER: 1HP
Weight.: 490KGS
SIZE: 2500 X 980W X 1200H
WIRE STAND (PRODUCED BY BUYER)
Weight: 51KG/PC
SIZE: 850Ø X 460H
(WE WILL OFFER ONE PC OF SAMPLE STAND AND THE DRAWING)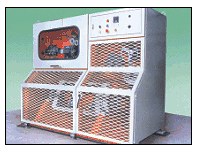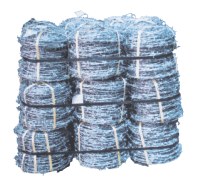 High Speed Barbed Wire Machine高速刺絲網機
MODEL NO: CF-SB3300
WIRE DIA: 1.5-2.65mm
WIRE TENSILE STRENGTH: 300-500N/mm2
BARB PITCH:3", 3-1/2", 4", 4-1/2"&5"
SPEED: 360R.P.M.(14# X 4"-33M/MIN)
MOTOR: 3HP
OUTPUT COILED WEIGHT: MAX. 30KG/COIL
ELECTRICAL COUNTER: 0-9999
WIRE MATERIAL: STEEL, GALVANIZED, STAINLESS STEEL
SPECIFICATION: 1675mm (H) X 975mm (W) X 2000mm (L)
WEIGHT: APPROX.1500KGS
Incl.1 SET WIRE PAY-OFF (4 WIRES SIMULTANEOUS)
---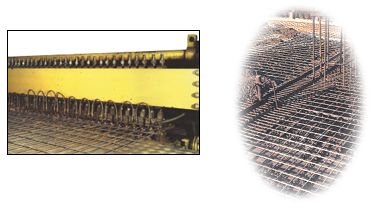 Wire Mesh Welding Machine點焊網機
MODEL NO.: CF-WM1000
WIRE MESH WIDTH (CROSS WIRE LENGTH): MAX 2500mm MIN 900mm
DISTANCE BETWEEN THE TWO OUTERMOST LINE WIRE: MAX.2400mm
LINE WIRE DIAMETER: 4.0 10.0mm
CROSS WIRE DIAMETER: 4.0 10.0mm
LINE WIRE SPACING, ABOVE STEPLESSLY PROGRAMMABLE: MIN. 75mm
CROSS WIRE SPACING, ABOVE STEPLESSLY PROGRAMMABLE: MIN. 50mm
NUMBER OF LINE WIRES (MAX.): 24
WIRE MESH LENGTH: 2000-6000mm
CAPACITY:
THE WORKING SPEED IS INFLUENCED BY THE CROSS WIRE SPACING, THE WIRE DIAMETER THE MESH WEIGHT, QUALITY OF WIRE MATERIAL, ETC. AND REACHES UP TO 40-80 CROSS WIRES PER MINUTE.
WIRE MATERIALS:
THE WIRE MUST BE READILY WELDABLE (UNALLOYED, CLEAN WIRE) AS USED IN THE REINFORCEMENT WIRE MESH SHEET PRODUCTION. THE LINE AND CROSS WIRES ARE FED TO THE WELDING MACHINE STRAIGHTENED AND CUT TO LENGTH. FOR THE PREPARATION OF THE LINE AND CROSS WIRES
STRAIGHTENING AND CUTTING OFF MACHINES WITH ROTATING SPINNER ARE REQUIRED.
WIRE ROLL WEIGHT (LINE WIRE MATERIAL ROLL)
LINE WIRE MUST BE PUTTED AS WIRE ROLL DELIVER INTO THE MACHINE
WIRE ROLL MUST ROLLED STRAIGHTLY AND THE MAX. WEIGHT IS 3000 KGS
ELECTRIC POWER:
THREE PHASE CURRENT: 220V
CONNECTION VOLTAGE: 60HZ
MAX. ELECTRIC POWER DEMAND: 800HP
(CROSS WIRE DIAMETER: 10+10mm SPACING: 100 X 100mm
NUMBER OF LINE WIRES:24)
COOLING WATER
INLET TEMPERATURE (MAX.): 25℃
PRESSURE DROP (MAX.):1.5BAR
PRESSURE: 3.5 BAR
CONSUMPTION APPROX.: 60L/MIN.
ONLY CLEAN, NEUTRAL TO SLIGHTLY ALKALINE WATER MAY BE USED.
---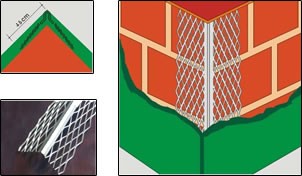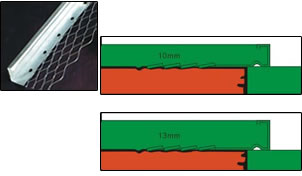 Angle Bead / CORNER BEAD / Plaster Stop Bead Production Line / Rib-Lath / Hi Rib-Lath Making Machine
---